Nico Vertongen has been working in the port sector since 2002, when he joined the Antwerp Port Authority in Belgium. When the Port of Antwerp International (PAI) was set up in 2010, he was appointed Director for Africa. As such, he made a number of visits to ports in the West African subregion, which allowed him to gain in-depth knowledge of the particular characteristics of African ports. In 2019, he was recruited as port governance expert for the WeCAPS project.
There has been a marked rise in maritime traffic in West and Central Africa and there is an increasing number of signs of positive dynamics for growth in trade with the rest of the world. Why is the development of their port facilities so important for both Africa and the European Union?
Nico Vertongen – It is fitting for African countries to have modern port facilities suited to the requirements of international maritime transport, as in most cases it is the only gateway for the countries in question and even more for landlocked countries. It is also important for the European Union, as Europe is Africa's main economic partner. European actors are very active on this market as port operators in most ports or as shipping lines.
This central role of ports in trade means it is essential to strengthen port governance – i.e. the capacity of partner countries to manage their ports on the key themes of port safety and security (strengthening of the legal framework, organisation of the port model, development of public-private partnerships (PPPs), exchanges of experience with ports in the subregion and Europe).
The upgrading of port facilities and transition to containerisation started over 10 years ago in Africa, which now needs to structure the various forms of management and its various port areas. So, how does the WeCAPS project intend to help the project's partner countries improve their port governance and with which objectives?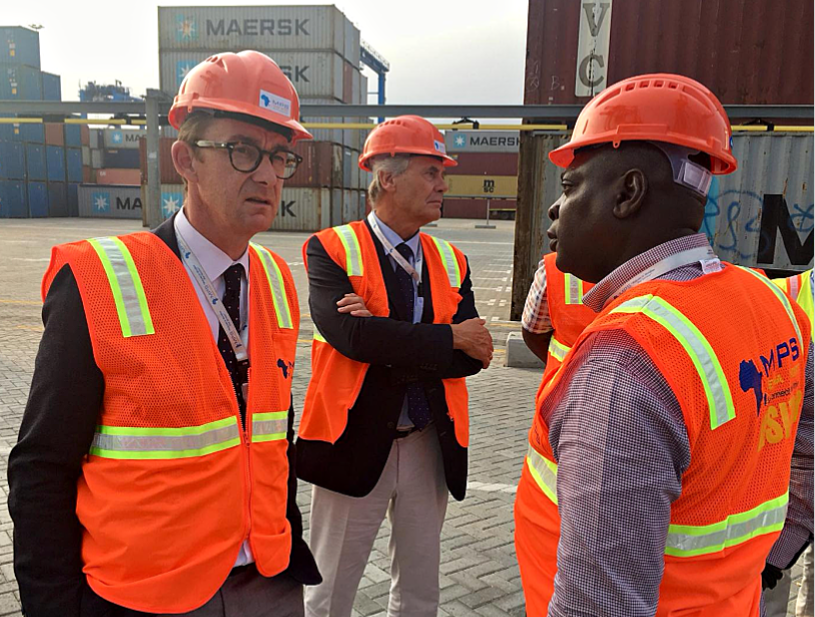 Nico Vertongen – Since the early 2000s, African ports have experienced major changes. Ports were previously managed by the State or a State-owned company. Little by little, the supervisory bodies have adapted and modernised. Port authorities have appeared, autonomous ports have been created and the first partnerships with development partners and the private sector have been established. This development has led to concession agreements with private operators for container terminals, but also for bulk terminals and liquid bulk.
The WeCAPS project, which focuses on security and safety, places emphasis on port governance: it helps ports improve the management of these two components. It is a joint task between the public sector and private sector and this is why we are also supporting the port's partners, private partners, public partners, such as firefighters and certain administrations, for example. We want to position ourselves so that we can support autonomous ports, the supervisory bodies and the port authorities.
Indeed, West and Central African ports have been transformed and now include a wide range of local public and private actors (shipowners, shipping agents, handling and forwarding agents…), but also international actors. Does the WeCAPS project also aim to facilitate cooperation between these actors and the alignment of their interests?
Nico Vertongen – Yes, it does. It relates to the previous question and the development of PPPs, which is planned under the WeCAPS project. Moreover, we have recruited an expert to develop these PPPs for him to identify what would be the interests, the win-win for ports in working with public partners, with donors if possible, and with private partners. On the port platform there are effectively several stakeholders, several local and also international correspondents, and by developing PPPs we try to use the project as a driver for investments that are not planned by WeCAPS. Indeed, it should be pointed out that this is a support project which provides technical assistance, training, but it is not an investment project. By developing PPPs, we hope that we can help ports and their local and international clients move forward and do more than WeCAPS itself could.
A port's attractiveness can in particular be assessed on land. A port must provide one of its key functions of redistributing the imported goods in the hinterland as well as in non-coastal countries. Why is it so important and what action will WeCAPS take to ensure that the road and rail infrastructure in West and Central Africa allows this transit to take place under good conditions?
Nico Vertongen – Yes, it's important! Once again, WeCAPS is a project based on port security and safety with a component to support governance, but relations with the hinterland are important and crucial points for most of the ports supported by the project. WeCAPS includes a "hinterland transport corridors" component and we will soon be recruiting an expert who will evaluate the main corridors. This evaluation will give us concrete elements and also allow us to know which activities to implement or improve. There are no activities planned for railways, but we are going to focus on road infrastructure and the problems, the obstacles, which ports and the port clients encounter in accessing hinterland markets, not only for imports but also for exports, of course, it goes both ways. This is one of the important points in terms of competition between ports in the subregion.
Africa is making progress towards port reforms and trade facilitation. It has also caught up with other continents in terms of port investments. So, in your opinion, what are the three main challenges to deal with in the West and Central African port sector by 2022 and what should be the objectives of the various port systems?
Nico Vertongen – Firstly, the relationship between cities and ports. Cities and ports in Africa often have to live together, which can cause many conflicts between them: in terms of the quality of life of people, but also their safety and security. At the same time, cities grow with the increasing rural exodus and put pressure on ports. Cities are not always represented in port supervisory authorities, which is also a source of tension. How are ports going to get out of cities, how are they going to develop outside cities? How are they going to manage this relationship, with all the negative aspects of cities, such as traffic jams, difficult traffic conditions, the ecological challenge for ports and therefore for cities? I think it's a very important aspect for African ports and also for ports all over the world: How to ensure a sustainable future together while respecting the needs, the wishes of cities and people and the interests of ports?
The second point is a bit more technical and concerns the future of conventional terminals, the breakbulk, or non-bulk, terminals, where general cargo is handled. In most ports, the conventional terminals have remained in the hands of the port authority or the State and have not experienced the same development as the other terminals. This has produced a two-speed world: on the one hand, private operators that have developed their projects under PPPs with the State and, on the other hand, a place where work continues like it was 25 years ago. This is why there is tension on the development of ports with two different realities. In the coming years, the choice should be based on privatising concessions and partnerships with private companies. At State level, solutions must be found to improve the performance, safety and security of these terminals.
Thirdly, the issue of youth employment and demographic pressure which we spoke about before. Ports are often the main employers in the country, so how can the port community as a whole ensure that more young people find a job in it (as the supply is still today lower than the demand)? How to come up with solutions, create more jobs, more training for all these young people who look with interest at ports because they have an undeniable economic attractiveness for the country and their future?
Finally, a topical issue, in West Africa, the Covid-19 epidemic has caused a major shock to economies. Port traffic is feeling the effects. West and Central African governments obviously rely on their ports to maintain supplies. What sort of help is the WeCAPS project offering them to overcome this crisis?
Nico Vertongen – In consultation with the relevant Delegations of the European Union (DEU) and Expertise France, WeCAPS has offered to help the project's partner ports cope with this crisis situation by launching three activities. It has provided them with a knowledge-sharing and distance learning tool concerning biological risks, with a focus on the coronavirus, which aims to give port actors a good basic knowledge of the disease, its routes of infection and the measures to be implemented to protect against it. The project has also sent a best practice guide for the authorities of the partner ports and first responders, which will enable them to continue their activities and carry out safety and security missions while respecting "barrier" gestures. Finally, WeCAPS will provide personal protective equipment and disinfection equipment. To support the local supply markets, the project has decided to focus on buying locally. It is supported for this by the French Directorate for Security and Defence Cooperation (DCSD), a project partner, and the DEU, which have listed the needs of partner ports and referenced the suppliers. The equipment should be delivered as soon as possible.